Education > Moss Picks > Summer Blooms > Butterflyweed
Butterflyweed, Milkweed: Asclepias
click on photos for larger images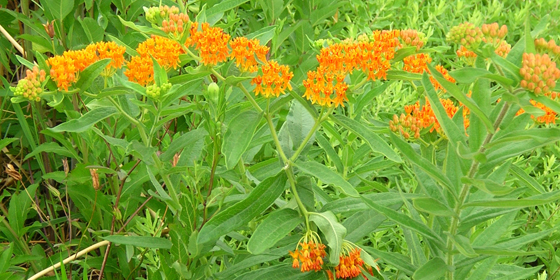 Family: Asclepiadaceae

Above: butterflyweed Below: monarch on swamp milkweed
Use: berms, beds, meadows , borders, prairies, marshes

Plant: deep rooted perennial to 5'

Origin: North American prairies, roadsides, and wetlands

Zone: 3 - 9

Flowers: Colorful or fragrant flowers clustered at end of stems. Complicated pollination mechanism requires large insects like butterflies.

Foliage: simple, sessile leaves most with milky sap

Culture: sunny location in average soil. Toleates poor, dry, rocky soil. Some species tolerate swampy soil. Attracts monarch butterflies.